Latin Rediscovery
Latin Rediscovery is a production company specialising in Latin music events. We work with internationally renowned Latin music performers (singers dancers musicians and composers) such as Omar Puente, Marcos Madrigal , Alfredo Ovalles, Guillermo Delgado , Nuno Silva, David and Kim Benitez, Mina and Giraldo, Julian Rowlands and Tango Siempre and choreographers, designers and directors Katherine Codogno, Gilles Gubelmann, Brian McMahon and Clara Zita. We also work with West End performers such as Michael Haslam and Arthur Kyeyune.


News
Delighted to be promoting Marcos Madrigal's solo recital debut at National Concert Hall Dublin on May 11th
Debut at National Concert Hall Dublin

After our Pizza Express Live gig in January 2018, we present Malediction d'Amour-Gypsy Tango Cabaret at National Concert Hall Dublin on June 1st, with renowned Irish bass player Joe Csibi.
Tickets // Malediction d'Amour-Gypsy Tango Cabaret

Our first ever Latin Classical Music Festival, Havana-Buenos Aires will be presented at the newly refurbished Purcell Room at London's world renowned Southbank Centre on July 17th and 18th 2018.
Tickets // Tangos for Angels and Demons
Tickets // Cubana Clasica

Delighted to announces that we will be performing at the Dublin National Concert Hall again in June 2018

So happy Violetta's Last Tango is supported by Arts Council England




We are at Edinburgh Festival Fringe with From Havana to Buenos Aires and Cuba/Brazil 4,5,7,9 10th August 2017 -
Tickets // From Havana to Buenos Aires
Tickets // Cuba/Brazil 4,5,7,9

We will be performing at Habanaclasica in November 2018 www.habanaclasica.com

Latin rediscovery is promoting a mini-festival at SouthBankcentre in the newly renovated Purcell Room at QEH 'From Havana to Buenos Aires' 17 and 18 July 2018 with Tango Siempre, Marcos Madrigal and Omar Puente.

We were at Bolivar Hall for Send a Piano to Cuba project in January and also in Cambridge Girton College Music Society and Somerville College Oxford Music Society - Bolivar Hall

5***** reviews for "Violetta's Last Tango" cd on Amazon!
Upcoming events
Dublin National Concert Hall on June 2nd again - Dublin National Cencert Hall

We will be at Wiltons Music Hall with Violettas Last Tango as part of the La Linea London Latin Music festival on April 25th to 29th. In the runup to the show we are promoting Tango tasters with top dancers Mina and Giraldo who coach the Strictly Come Dancing contestants and Paula and Martin. - Violetta's Last Tango @ Wiltons

From Havana to Buenos Aires - From Havana to Buenos Aires at the John Field Room

We have performed in major London venues such as Kings Place, SouthBank Centre -Purcell Room at Queen Elizabeth Hall, artsdepot theatre Finchley and the Edinburgh Festival Fringe between 2013-2015. Internationally we have performed in Dublin and return to the National Concert Hall in 2017.

For all technical information about sound, lighting and set designs please contact latinrediscovery@hotmail.com Brian McMahon 07533306358
Keep up with our latest productions
Follow our YouTube channel with videos from our lastest shows and also vblogs from Ann herself
Follow us!
What our audiences say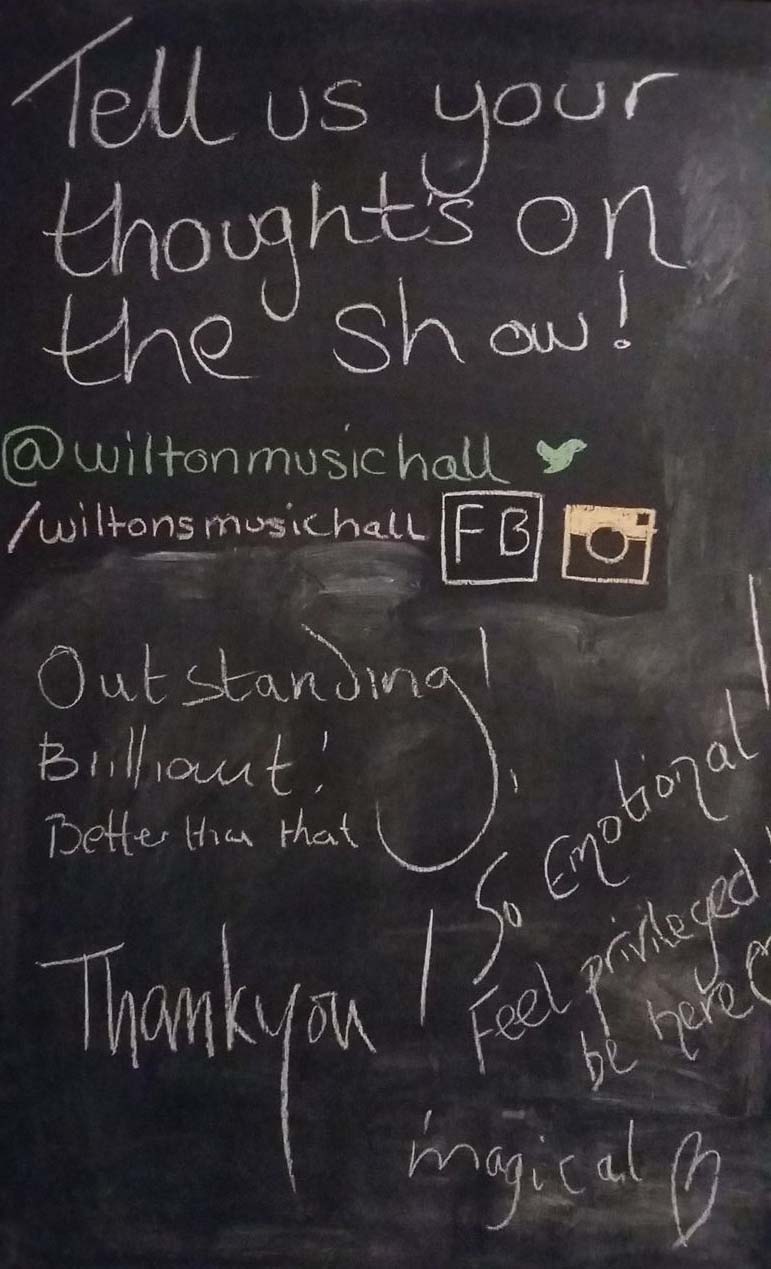 'That was a stonking show! I really enjoyed it.'
R.King.

'Wonderfully eccentric, bursting with dramatic operatic vocals' - Folly Tango Review

'To hear the classic Argentine tangos performed by a singer who understands. Dance a rare treat! Maura Eaton Dublin Tanguera - An Afternoon in Buenos Aires concert June 2015 at National Concert Hall John Field Room Dublin'

'I've just come home after your show "TANGOS WITH ANGELS AND DEMONS" at the Purcell Room -- What a great show-- still singing and dancing.! Do please put me on your email list for details of your future engagements anywhere in the Greater London area. Sadly we won't see you in the Purcell Room again from Monday 21st September, as they close for 2 years "refurbishment". A similar size house would be ideal, as your show benefits from intimacy with the audience. Again thanks, and hope to see your next production soon.'
Sebastian Wheen

'I attended the above show over the weekend and thought it was excellent, please let me know when you are planning your next performance as I would love to attend!'
Divyesh

4****
'With music ranging from Bizet to Puccini, 'Violetta's Last Tango' succeeds in showcasing a variety of arias in a fluid and structured way. The music is utterly sensational, as is the dance. A sublime evening well worth attending.'
Bertie Darrell for Edfringereview!

'A wonderful show-Ann Liebeck a real DIVA- the spirit of tango and melodrama well presented'
Dalia and David Serr

'The show was amazing! Violetta's sad story expressed in drama, dance and opera. So glad we managed to be part of it yesterday. Well done!'
AnneMarie Gilroy

'Your show was fantastic and the room was so beautiful. Thank you for such a lovely evening. Hope to see it again before you go!'
Jennifer Firenjen Roberts Edinburgh Tango Society

'Enjoyed the show very much, Ann and Nuno are amazing together. It has a bit of everything, music, dance, song, romance and drama. The setting was very atmospheric, would highly recommend, a well spent 50 minutes. So glad had the privilege to attend'
Mary Park

   'I attended Violetta's last tango twice at the Fringe Festival this year as the production and its mix of styles of music fusing tango and opera, which worked a treat, fascinated me. It was entertainment and enjoyment all the way. Fantastic venue also made it quite an intimate space embracing the world of tango, cabaret and opera under one roof - what a beautiful space! The music was played arranged very appropriately and sympathetically by Julian Rowlands (a one man band) supported with a range of background visuals which showcased some other members of the bigger band which was a good touch and addition to the show. Ann and Nuno sang beautifully together and complemented eachother very well. Nuno's is also a contemporary dancer and his interpretations with tango moves were sublime. Being a tango dancer, singer and musician myself I appreciated all that this show had to offer. I also enjoyed the chance to dance at the end of the show with some fellow tango dancers at the Milonga - what fun!! Thank you Ann, Julian and Nuno for a great show!!'
Petrea Cooney

  'Violetta's Last Tango at the Ghillie Dhu provided a rich hour-long experience of tango-related music and dance. Ann Liebeck ('Violetta') and Nuno Silva ('Alfredo'), accompanied by Julian Rowlands on bandoneon and keyboard, enacted a drama based on a dream-like sequence of recollections underpinned by music which connected classic Argentinian dance to the European classical tradition, including opera, which forms part of its basis. References to La Traviata and Manon Lescaut punctuated the drama which was strong in atmosphere while not lacking moment-to-moment incident. Nuno Silva's vocal contributions - he features mainly as an athletic dancer - were only occasional but very pleasing; Ann Liebeck shone vocally throughout, not least in the more classical items such as Ravel's wordless habanera. Julian Rowlands, arranger of much of the material, provided unfailing support.'
Guy Talbot